WordPress SEO Questions? Click here to ask me on my Youtube channel
WordPress SEO Consultant
From developing WordPress Websites, through to Strategic WordPresss SEO Consultant Services. From continuing to analyse Website Analytics, through to tracking how many visits, conversions, leads and sales your site receives.
Fine tuning and optimizing to get maximum activity and return on investment for the business. This strategic course of action can lead to more Digital Growth and a Healthy Online Presence.
Read more details about WordPress SEO Consulting Services.
Blog
The Search Trends for 2017 all businesses need to know about Before you craft your WordPress SEO strategy for 2017, it's important to understand how big picture SEO trends could affect your search goals. Here are my WordPress SEO Trends for 2017.  This talk was given at the Melbourne SEO Meetup, and video recorded on SEMrush […]
Penguin now a real-time function of the core algorithm It's been a long time coming, but it finally happened. Penguin 4.0 has been released as a part of the core algorithm. Here is the announcement from Gary Illyes: https://webmasters.googleblog.com/2016/09/penguin-is-now-part-of-our-core.html
To help you get started with WordPress SEO by Yoast, I will start with a little background for you. Below is a chat I had with Kate Toon on her show The Recipe For SEO Success.
Testimonials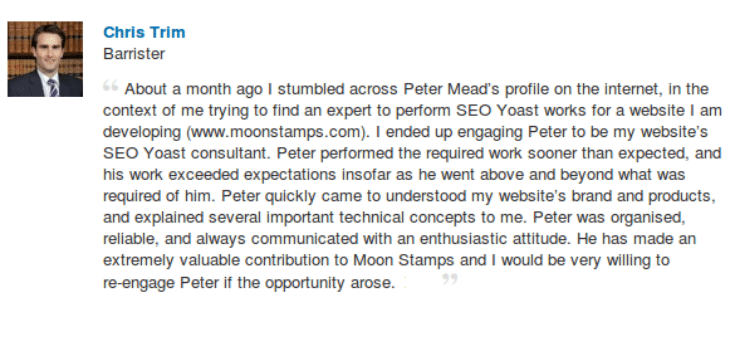 ---